Onyx+East ventures out of Indy area with $15M Tampa project
June 5, 2018
Indianapolis-based condominium developer Onyx+East has expanded into Florida with a $15 million project—its first outside the local market in the two years since the upstart firm was founded.
Onyx+East, which spun out of prolific apartment developer Milhaus Development Inc., began operations in June 2016 and and already has broken ground on several condominium projects in Indianapolis.
Now the company has entered the Florida market with the purchase of property in the heart of South Tampa's Hyde Park neighborhood.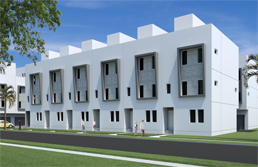 Units in Views at North Hyde Park will start in the $400,000 range. (Image courtesy Onyx+East)
Dubbed Views at North Hyde Park, the new construction will feature 37 two- and three-bedroom town homes ranging in size from 1,697 square feet to 1,965 square feet. Units will start in the $400,000 range.
John Bain, executive vice president of Onyx+East's national operations, said the first unit should be available in October.
Bain joined Onyx+East in December and is responsible for overseeing developments in all of the company's markets. READ MORE HERE.